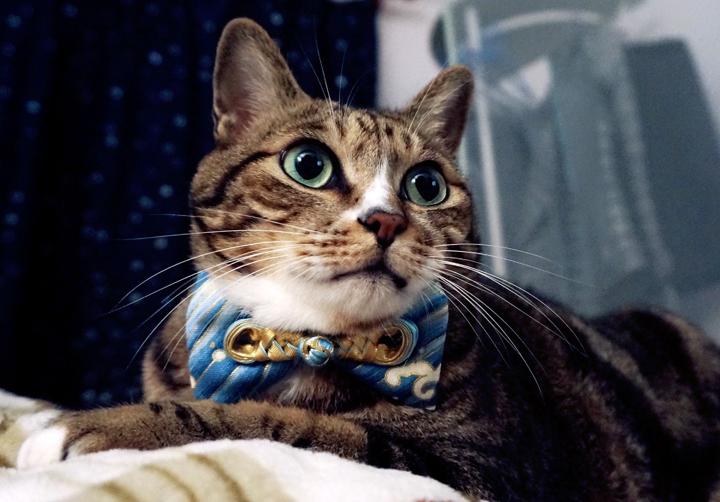 His name is Hulu, a 12-year-old Chinese Li Hua (Dragon Li) cat who was born in ShenZhen, spent most of his life in Shanghai and is currently living in London after a long journey around the globe. He was admitted at three different hospitals (China & UK) due to Hepatic Lipidosis (fatty liver syndrome) and every time he needed to travel to the vet, he could not stop crying (as loudly as you could imagine).
Cats are incredibly good at hiding their discomfort and pain, hence by the time they are taken to the hospital inpatient admissions are usually required resulting in a much bigger vet bill, likely an increase on your pet insurance at the renewal. Even if you have the most vocal dog in the world, will you be confident to say that your dog is not suffering from arthritis when there is no symptom of limping? Maybe they are, they just do not say. Or actually, they may have told you many times, you just did not get the right message.
Of course, I'd love to stay on top of my pet's health and wellness.
As a pet parent, everyone would love to make every effort to ensure our pets are always safe, healthy and happy. The 21st-century healthcare for our dogs and cats are going to be digital, which leverages the power of big data and machine learning to help more pet parents on this planet despite the shortage of veterinarians in many countries, i.e. UK and US.
Why did we build PetPanion?
Being a firm believer of "One ounce of prevention is worth a pound of cure" , we are determined to build a data-driven pet healthcare app that puts pet parents in complete control of your pet's wellness, medically and financially.
When your pet is perfectly well, PetPanion enables you to store everything about your pets at one place and track their health via PetPanion Wellness Score.
When they do not seem to be themselves, you can have an audio or video call with a qualified veterinarian via PetPanion. Our vets will also tailor-make treatment plans for your pets based on their digital profiles, for example, obesity and chronic pain plans.
Do you know that a total hip replacement (THR) for a Labrador will cost £6,500-8,000? Are you aware that there are things YOU can do to prevent obesity and arthritis to give your pets a better life? Download PetPanion today from App Store or Google Play for free.
Why is PetPanion different from other digital vet apps?
Not only quick advice but also bespoke treatment plan for your pets;
30-min audio/video call so all your concerns will be addressed;
Our vet team have access to your pet's full medical history;
5G GPS activity tracker and smart bowl feeding real-time data collected by the smart devices will also be shared with our vet team;
Our vet team would work with your registered vet to keep your veterinary care smooth and consistent.
All PetPanion Bespoke Healthcare plans offer unlimited consultations, you will have the peace of mind that you can always speak to our vet team who will work along with your registered vet at all times.
Why did we choose PetBiz and what's next?
Thanks to 5G/NB-IoT technology, PetBiz GPS activity tracker has the best battery life (30 days) and you will never need to worry that your dogs may go missing again. PetBiz Smart Bowl enables you to keep track of your pet's daily food consumption – before you even notice any early signs of symptoms, our vet team will receive an alert and arrange a chat with you at the earliest.
The next step is data integration. Our strategic partnership will offer a holistic solution for your pet's health and safety, with a fixed subscription that includes unlimited digital veterinary consultations, preventative care, and in the long term pet insurance to cover any unexpected vet bill. Guess what? We believe you deserve a good discount at the renewal if your pet is being well looked after, and we are working on it!
Our pets don't speak, they can't tell us when they are feeling unwell. In Hulu's case, over the years his "mum" learned to keep a close eye on his appetite and now this worry is completely gone with IoT devices like PetBiz Smart Bowl. Both his "mum" and our vet will receive an automatic alert when there is a significant change in his food consumption. At PetPanion, everything we do is to empower pet parents to stay proactive towards your pet's health and wellness at all times. Let's build something amazing together for our beloved pets.
30% off launch discount for all products, services and subscription plans with code "Unconditional" that can be used in our online shop and on the app!